Many factors need to be considered when picking the right flooring for your kitchen. How often do you cook? Are you looking for open kitchen flooring? We've done some research on Kitchen flooring, which I am pretty sure will go a long way toward helping you choose your kitchen flooring. Let's go through the different flooring types and options you can go with;
Consider hardwood flooring when:
You want durability.
You're working on an open kitchen floor plan.
You want to maintain an exclusive look for many years to come.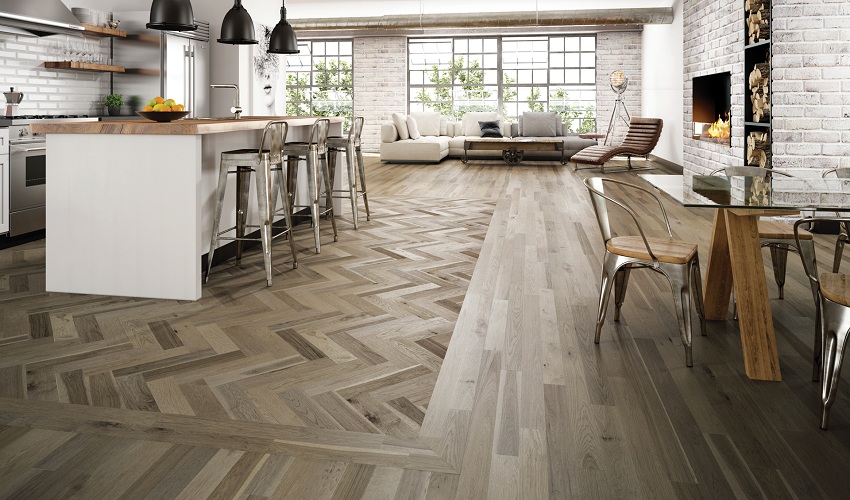 Hardwood flooring is an ideal choice you can make to create a very sophisticated look that never goes out of fashion. Not only does it enhance your kitchen's appeal, it also increases your property's value in the eye of potential investors. Giving you a unified and warm look, hardwood flooring is the best choice for kitchen and living areas as well. It comes in two forms; engineered wood planks and solid wood strips.
Consider vinyl flooring when
You spend a lot of time cooking.
You want a low-maintenance floor.
You have a limited budget.
Vinyl flooring is the safest choice you can make without spending much. If you cook every now and again, vinyl flooring is probably the right flooring you would like to pick because it feels very comfortable to your feet and brings you a very elegant kitchen look.
Consider porcelain tile flooring when:
You want to achieve a stone-like ambiance.
You want durable and stylish flooring.
You are on the lookout for low-maintenance flooring.
Porcelain flooring tile is quite a popular choice among home owners. It's durable and stylish. These tiles are produced in a way that they can withstand extreme conditions.
What's your favorite flooring option for kitchen? Please feel free to let us know your thoughts in the comment box below.